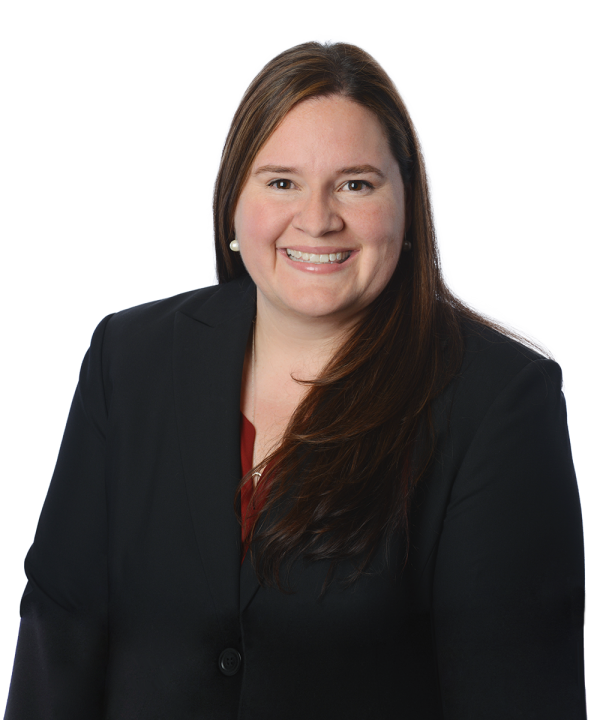 Rebecca represents injured plaintiffs in the BC Supreme Court and injured workers at the WCAT. She also defends these claims. Her balanced practice allows her to cultivate important relationships with medical experts, insurance adjusters and other lawyers, who know her to be independent, committed and resourceful. Rebecca believes these relationships and her persuasive communication skills are key to achieving great results for her clients.
Biography
Called to the BC Bar in 2009, Rebecca K. Buchanan articled and practised for six years at a well-respected regional litigation firm before joining Harris & Brun. Rebecca graduated UBC with her LL.B. after completing an honours degree in English and intended to put her language skills to use as a solicitor. She then won a trial during her articles, a second months later, and has been bringing and defending personal injury claims with equal commitment ever since.
Rebecca appears regularly before the BC Supreme Court, where she practices personal injury law, and before the Workers' Compensation Appeals Tribunal, where she practices administrative law. She has successfully litigated cases involving mild and traumatic brain injury, post-traumatic stress disorder (PTSD) and other psychological injuries, thoracic outlet syndrome (TOS), orthopaedic injury and chronic pain cases. She is also a successful advocate for clients with WorkSafeBC claims involving the same complex injuries.
Prior to becoming a lawyer, Rebecca held the position of Review Officer during two summer terms at WorkSafeBC. Since her call, she has harnessed that experience to represent workers, the families of deceased workers and employers before the WCAT. She is now frequently retained by insurers and other lawyers to advise on and argue the application of the statutory worker-worker bar. She has also been retained as an expert in the quantification of WCB benefit entitlement.
In all aspects of her life, Rebecca is an instinctive problem-solver who approaches challenges with intelligence, energy and humour. As a community volunteer, she has managed consultations, stakeholder engagement and advised on the development of municipal policy for parks, environmental land management and arts and culture.  She is an open water swimmer, watercolourist and writer.  Rebecca is also known to partake in the occasional scrabble tournament, much to the detriment of her competitors.
* Rebecca K. Buchanan Personal Law Corporation
Notable Workers Compensation cases include:
WCAT 2011-02430/02431: Rebecca's firm represented a pedestrian struck by a car in a parking lot.  The pedestrian was a worker in the course of her employment and ICBC argued the defendant was as well.  Rebecca successfully argued this motor vehicle accident was not work-related, entitling the client to compensation through the court system.
WCB RD Review Nos. R0154814/0154821:  Rebecca successfully argued that her client had suffered a significant accident that caused the client to develop totally disabling, compensable psychological conditions. As a result, Rebecca was able to achieve compensation for her client more than doubling the client's wage loss and pension entitlement.
WCAT 2014-01674: Rebecca acted for a young widow whose husband and business partner was killed while renovating a premises that was to become the family business.  The business was not registered with WCB.  Rebecca carried the case through two levels of appeal, ultimately winning at the WCAT.  Rebecca then successfully argued the family was entitled to the statutory maximum WCB pension for the widow's lifetime, for a cumulative value exceeding $2,000,000.

Morales v. Neilsen, 2009 BCSC 1890
Notable trial results include:
*References to successful case results where the lawyers at Harris & Brun have acted for clients are not a guarantee of future results. The outcome of every legal proceeding will vary according to the facts in each individual case.
Memberships and Affiliations
Rebecca's professional affiliations include:
Canadian Bar Association
Canadian Defence Lawyers
Trial Lawyers Association of British Columbia
Publications
Defending Personal Injury 2016 CLEBC, The Undertaking –Update on Juman v. Doucette, February 4, 2016, Vancouver.
Community Involvement:
Rebecca believes strongly in community service and supports the creative arts and the environment. She is the Chair of the West Vancouver Museum Advisory Committee, sits on the board of the Centre for Art, Architecture and Design, and is the former co-chair of the West Vancouver Parks Master Plan and a member of its Upper Lands Working Group.