The Canadian Bar Association, BC Branch (CBABC) congratulates Vancouver lawyer Robert Brun, QC as the 2019 recipient of the Georges A. Goyer QC Memorial Award for Distinguished Service. CBABC presented the award last evening during the BC legal community's annual Bench & Bar Dinner.
"All of Robert's nominators and supporters share in respect for his outstanding abilities as a lawyer and consistent support of the legal profession," said CBABC president, Ken Armstrong. "We count on Robert through his practice, volunteering, and 40 years of legal writing and lectures, to share his personal and professional wisdom and perspective – qualities that truly enhance our profession. His promotion of access to justice has benefited people in BC and around the world through his travels to speak on the importance of the rule of law and maintaining an independent bar."
Robert Brun, QC was called to the BC Bar in 1978. He practiced for five years with the Legal Services Department of the Workers' Compensation Board of BC and, in 1984, founded the Vancouver-based law firm Harris & Brun.
Robert's extensive involvement with CBABC includes his time as an elected member beginning in 1997, and a term as branch president in 2003. Robert later became national president of the Canadian Bar Association (CBA) in 2012. That same year he traveled to Ethiopia and Uganda to help implement CBA's Strengthening Access to Justice in Eastern Africa initiative. Robert has been instrumental in the Envisioning Equal Justice Project and the Inquiry into the Future of Legal Practice – both initiatives demonstrate his commitment to access to justice for all Canadians.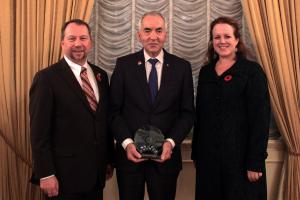 Photo (left to right): Ken Armstrong (CBABC President); Robert Brun, QC (Goyer Recipient) and Kerry L. Simmons, QC (CBABC Executive Director)
The Georges A. Goyer QC Memorial Award for Distinguished Service annually recognizes exceptional contributions to the legal profession, the law, jurisprudence, or a significant law-related benefit for British Columbians. The award is in memory of Georges A. Goyer QC, a respected lawyer who generously served as a member of the CBA.